Saudi Arabia High-end hotel decoration engineering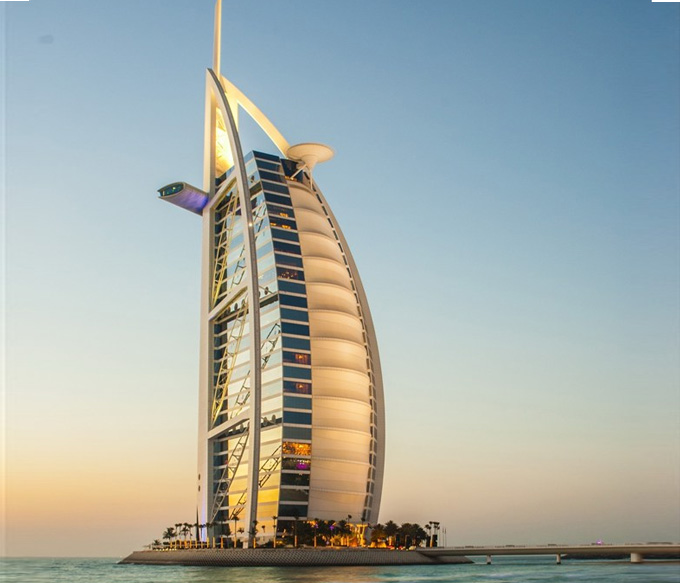 The burj al Arab is the tallest seven-star hotel in the world. It opened in December 1999, with 202 superior rooms, on the artificial island of Jumeirah Beach Resort, 278 meters off the coast.It combines the latest architecture and engineering technology with a charming landscape and shape that makes it look as if it is in harmony with the sky.On February 22, 2005, ranked first in the world of Switzerland's Roger federer and American legend's elder statesman clearance in dubai, came to the claims of the world's most luxurious hotel, located in dubai at the top of the waters of the burj al Arab hotel a unique air tennis court in a special friendly, allegedly this tennis court is helipads, more than 200 meters off the ground, let a person the willies.
Burj al Arab hotel
Burj al Arab hotel
The hotel, which looks like a sailing ship on the move, is built on an artificial island off the coast in the shape of a sailboat tower.It was built on an artificial island, Jumeirah Beach Resort, 280 meters off the coast.It adopts the double-layer membrane structure architectural form, which is light and elegant in shape, with strong membrane structure characteristics and modern style.It has 202 duplex rooms and a 200-meter high restaurant overlooking the city.Its atrium is golden, and its most luxurious 780-square-meter presidential suite is even more ornate. On the 25th floor, the furniture is gold-plated, with a cinema, two bedrooms, two living rooms, a dining room and access to a special elevator.Guest rooms range in size from 170 square meters to 780 square meters.A seven-star hotel must be expensive, starting at $900 and the presidential suite at $18,000.The hotel, which boasts eight BMWS and two rolls-royces, offers direct shuttle service to and from the airport, as well as a 15-minute helicopter ride from the hotel's dedicated airport on the 28th floor.Guests who want to eat at the seafood restaurant will be taken by submarine to the restaurant so that they can enjoy the underwater wonders before eating.
Steelaman supply hotel furniture,light luxury furniture series(end table,dining table and chair,TV cabinet,bed,sofa,leisure chairs,etc.).
As well as customization of metal products,like table legs,stainless steel screen partition and hotel engineering products.