What are the cleaning methods for stainless steel?
Stainless steel is easy to clean. Washing with soap or mild detergent and warm water followed by a clear water rinse is usually quite adequate for domestic and architectural equipment. Where stainless steel has become extremely dirty with signs of surface discolouration (perhaps following periods of neglect, or misuse) alternative methods of cleaning can be used, as outlined below.
If wire brushes are used, these should be made of a similar or better grade of stainless steel. Ensure that all abrasive media used are free from sources of contamination, especially iron and chlorides
Rust marks or staining on stainless steels is unlikely to be the result of corrosion to the stainless steel itself (similar marks may also be found on porcelain and plastic sinks). These marks are likely to result from small particles of carbon steel from wire woo
Nylon abrasive pads should be adequate for dealing with most deposits. If a more severe treatment is needed to mask coarse scratches or physical damage on a surface, use the finest abrasive medium consistent with covering the damage marks. With directional brushed and polished finishes, align and blend the new "scratch pattern" with the original finish, checking that the resulting finish is aesthetically acceptable. Silicon carbide media may be used, especially for the final stages of finishing. Avoid using hard objects such as knife blades and certain abrasive/souring agents as it is possible to introduce surface scuffs and scratches. Scratching is particularly noticeable on sink drainer areas. These are usually superficial and can be removed with proprietary stainless steel cleaners or, alternatively, with a car paint restorer, such as 'T-cut'.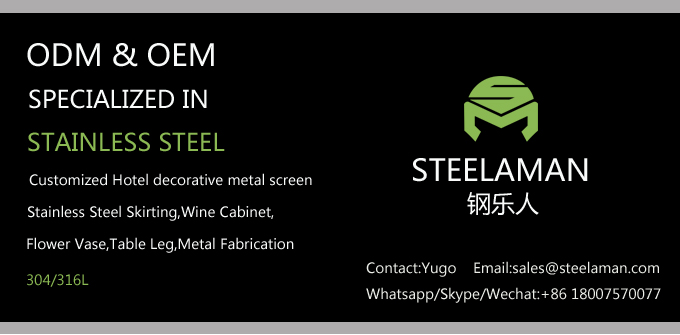 Foshan Steelaman Metal Products Co.,Ltd is a group company with more than 10 years history in Stainless Steel field. Steelaman Metal Products integrated the whole industry chain with own factories provide the customers one stop solutions for all kinds of stainless steel screen room divider and Stainless Steel Skirting and all kinds of decorative projects.
With more than 10 years of growth, Steelaman Metal Products have own laser cut machines, die cast equipment, CNC and welding machine and polish machine and Vacuum coating equipment, Electroplating equipment can produce and match big projects from architectural interior decorative products to outdoor big Stainless Steel Sculpture.